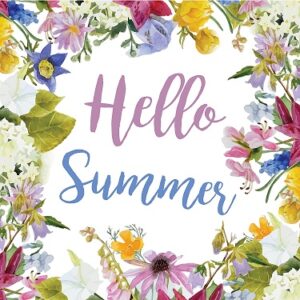 Happy July from Dyras Dental! Summer is slightly different than previous years with the heightened importance of safety and health, but there are still plenty of ways to stay safe all while enjoying the warm days ahead. Some of our favorite sunny day activities take place outside and away from crowds, like hiking, fishing, camping, boating, swimming, tennis, and golf.
Here in Lansing, Michigan, we are so lucky to be surrounded by natural beauty right at our doorstep. There are local parks and lakes to visit or the Lansing River Trail to hike. Staying active is crucial to both our physical and mental health. Try making a point to get outside multiple times a week, even if it's just for a walk around the block or doing gardening/yard work. Our team strives to keep active daily for our overall wellness. In terms of mental health, some of our team members practice meditation or prayer to maintain a sense of calm.
It's hard to think of a summer treat that doesn't involve something with a lot of sugar but we urge you to try healthier options. During the summer months, there are so many fruits and vegetables in season to add to our diet. Berries or crunchy vegetables are great options for your summer snacking needs. Avoid treats that are sweet and chewy as well as acidic drinks which can all cause tooth decay.
Times are strange and unfamiliar right now so remember to be thankful and show kindness to others. Our motto is, "have an attitude of gratitude"! We hope you all enjoy summer and stay safe and healthy!
Leave a Reply