We recognize that all our patients are unique and deserve to receive dental care that reflects their individual needs. Our experienced and talented dental team is committed to working with you and your family to create a comfortable, stress-free, and rewarding dental experience every time you visit our practice.
We are pleased to welcome you and your family, and we look forward to working with you.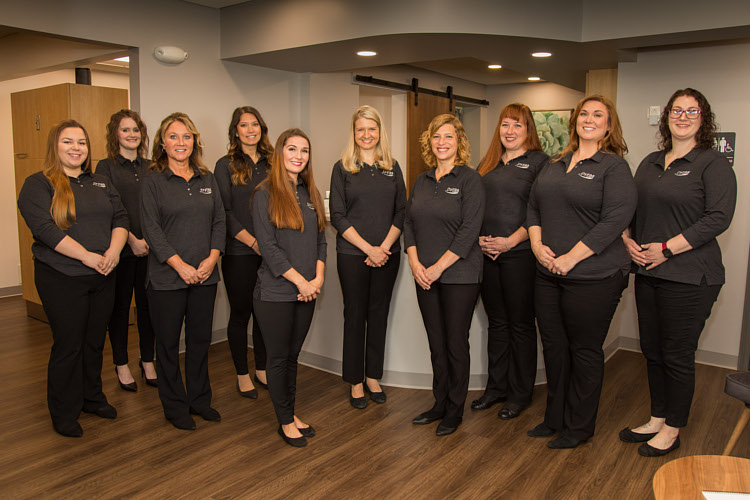 ---
Front Office Team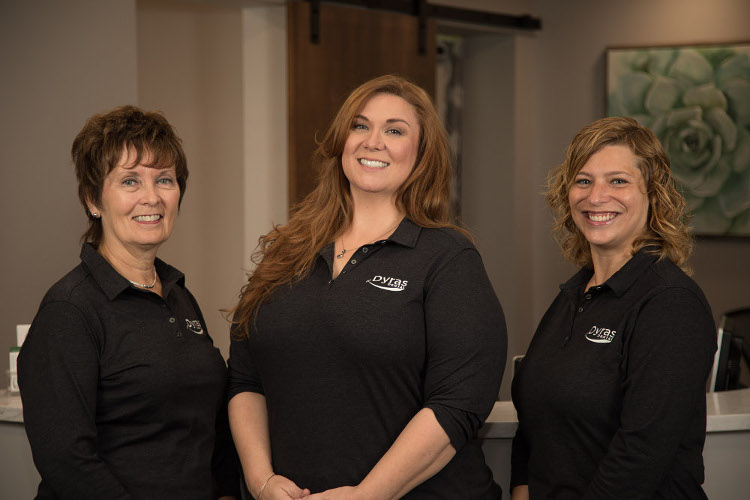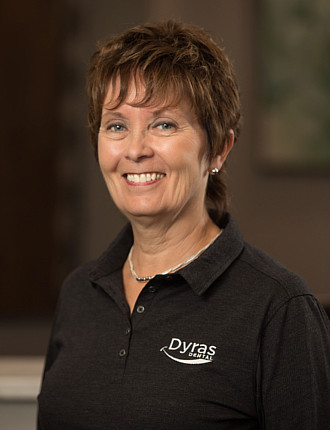 Laura
Office Manger
Dentistry has been in my life for more than 40 years and I have enjoyed all the friendships I have made over the years with our wonderful staff and patients. I started with Dr. Michael Hutcheson as an assistant in my 20s, and that position evolved into managing a staff of nine employees (and three grandchildren)! We have a common goal to achieve the best care for our patients while respecting our individual talents that each person brings to achieving this goal.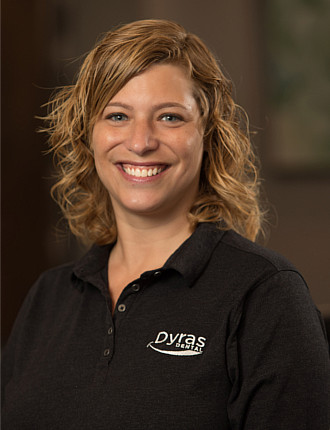 Heather
Financial Coordinator
I have worked in the dental field since 2000 and have been involved in many aspects of the field during that time. However, my passion is my current position as a financial coordinator. I look forward to many more years at our office and hope to make your experience here as pleasant as possible.
I met my husband at a previous dental employer. My father-in-law likes to say, "See, going to the dentist can be a good thing!" We have two wonderful children and enjoy spending time as a family.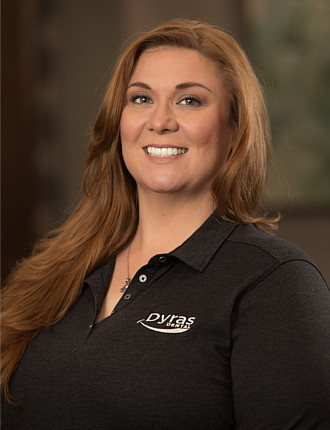 Shanna
Scheduling Coordinator
I have been with Dyras Dental since 2015. I hold a general business degree, with a focus in the medical field, and enjoy being creative with marketing, social media, and patient outreach. This is a dream job for me. I used to pretend, when I was younger, that I worked in a dental office — I even faked toothaches so I'd be taken to the dentist! I feel fortunate to be with this practice: our doctors and team are like a second family and I appreciate everyone's unconditional love and support for each other and our patient family!
Born and raised in the Deep South, mainly between Louisiana and Texas, I moved to Michigan in 2014 with my husband, who is from Lansing. We share our lives with two dogs who enjoy taking us on walks along the local trails.
---
Assistant Team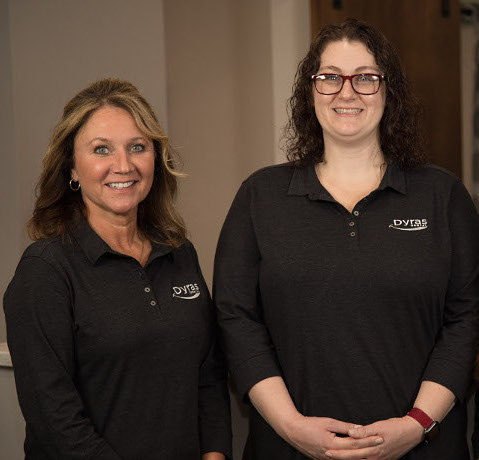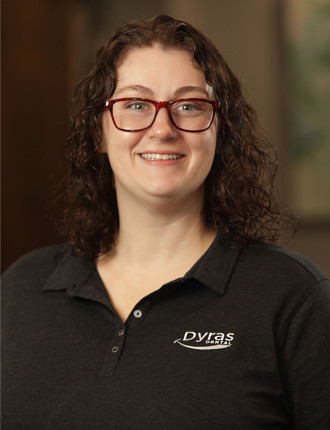 Amanda
Dental Assistant
I have been at Dyras Dental since 2012. I enjoy working in the dental field and making our patients feel safe and comfortable during every visit. The best part of my job is seeing the look on a patient's face when we have changed their smile! I also love working with this team. We are more like a family, in my opinion! Working here has made me a better person, both personally and professionally.
I am married to my high-school sweetheart and we have two amazing daughters, Skylar and Saydee. I absolutely adore our two Dachshunds, Gizmo and Sheldon. In my free time, I enjoy spending time with my family, gardening, and doing projects around the house.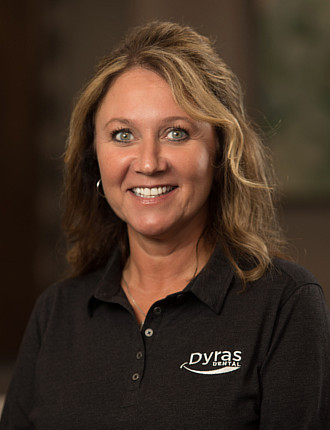 Nicole
Lead Dental Assistant
I have been in the dental field for more than 25 years, most of which I've spent right here! I have enjoyed working with Dr. Hutcheson, Dr. Dyras, Dr. Zaluski, and our experienced team for many years. We work well with each other on a professional level, but the friendships I have made with everyone over the years have been one of the greatest things about my job. Of course, I also enjoy seeing our patients happy and confident with their new smiles.
I grew up in the Upper Peninsula and moved to the Lansing area after attending college in California. I have wonderful twin daughters who are attending LCC and a Shih Tzu named Lucy. In my free time, I enjoy traveling, camping, and spending time with my family.
Samantha
Dental Assistant
Dentistry entered my life in 2014 and I joined Dyras Dental in 2018. My job keeps me on my toes with something new every day, from the people to new experiences and learning new things. I always look forward to what the future holds!
I have two adorable dogs to keep me company at home. We all love to explore the outdoors and travel!
---
Hygiene Team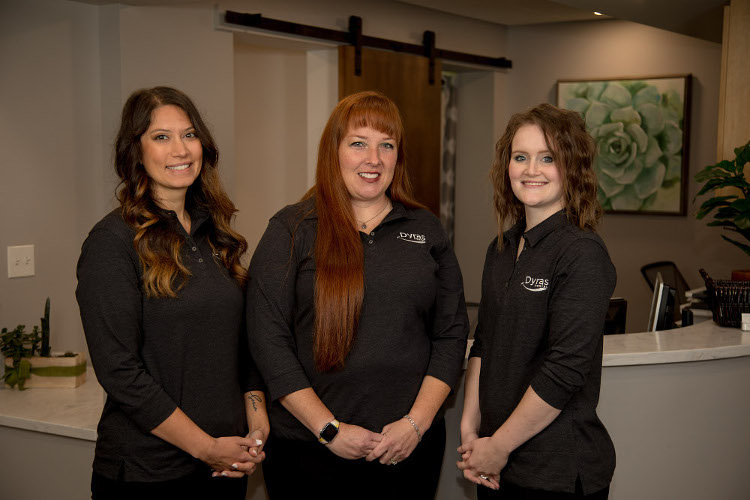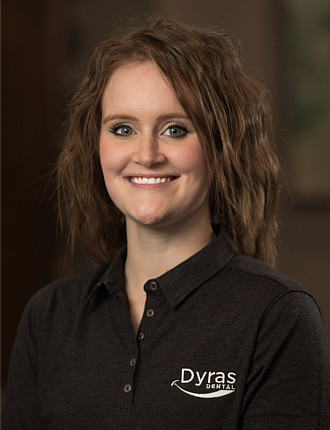 Chelsea
Dental Hygienist
I began my career as a dental assistant in 2010 and continued my education to become a dental hygienist. I joined Dyras Dental in 2017 and feel so fortunate to work with such an amazing, encouraging group of people. Patient care is my number-one priority; I love giving people a positive dental experience!
My husband and I live in Swartz Creek with our two cats. My hobbies include painting, reading, and gardening.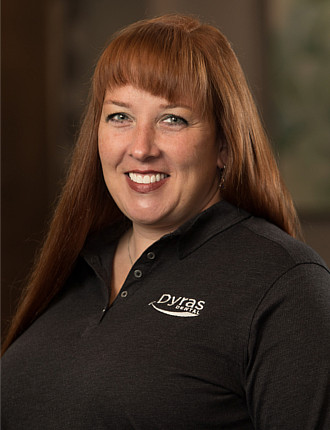 Christa
Lead Hygienist
I graduated from Lansing Community College's dental hygiene program in May 2013. I went on to complete my bachelor's in dental hygiene with minors in public health and education from Siena Heights University. In 2015, I found my forever home with Dr. Hutcheson's office, which shortly thereafter became Dyras Dental! I absolutely love patient education. I am a firm believer in the fact that you cannot fix things or change habits unless you understand why you are doing it. There is nothing more rewarding than helping a patient return to optimal dental health and seeing that smile on their face.
I am newly married to a wonderful husband. I have three amazing grown daughters who have brought me three great sons. I have a German Shepherd who just loves to go on walks, ride in the car, and go camping and swimming. And last but not least, I have a new granddaughter who makes my heart absolutely ecstatic.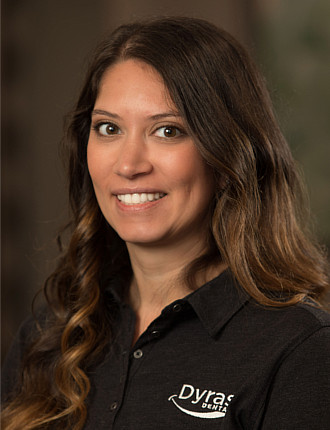 Madeline
Dental Hygienist
I graduated from Lansing Community College's dental hygiene program in May 2014 and went on to complete my bachelor's degree in dental hygiene from the University of Michigan. I started working at Dyras Dental in September 2015 and love working with the awesome team here. I enjoy working with a wide variety of patients and building relationships with the patients and team, in addition to learning about new advancements and technologies in the dental field.
Outside the office, I enjoy spending time with friends, family, and my animals.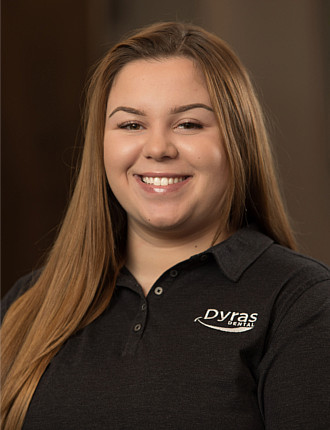 Mackenzie
Hygiene Assistant
I graduated from high school in 2019 and am currently attending Lansing Community College to become a dental hygienist. I'm so grateful to have the opportunity to work at Dyras Dental to gain experience that will serve me later in my career. Everyone is patient and supportive as I learn about the varying procedures and protocols in place. We are like a family and enjoy making each other laugh.
While in high school, I played varsity softball for four years and was the MVP my senior year. I enjoy baking treats in my new apartment and selling them at trade and craft shows in the area.